"Oscar voters are nearly 94% Caucasian and 77% male, The Times found. Blacks are about 2% of the academy, and Latinos are less than 2%... Oscar voters have a median age of 62. Hundreds of academy voters haven't worked on a movie in decades. 64% have no nomination or award."
"
The roster also features actors far better known for their television acting, such as Erik Estrada from "CHiPs,"
-LA TIMES By John Horn, Nicole Sperling and Doug Smith, Los Angeles Times
This looks bad. It does. It looks really bad. And sexist. And racist too. Which are also bad. Unless you're a racist, then probably looks all right, then again maybe 94% is a little low for you.
One: I have my hands full.
Two: No one takes a cheap shot at CHP
Officer Francis Llewelyn "Ponch" Poncherello and gets away with it.
To begin with, we immediately assume that because the voters are of the same race that they will vote the same way. But because the votes are confidential, no such conclusion can be drawn. Correlation maybe, but certainly not causation, we don't have the proof.
Now Denzel Washington suggested a possible fix to the system: "If the country is 12% black, make the academy 12% black," Washington said. "If the nation is 15% Hispanic, make the academy 15% Hispanic. Why not?"
The idea fixes the racial imbalance, but do equal race percentages determine whether a movie deserves to win an Academy Award? Would this truly help us find the definitive "Best" of the year?
I think the Oscar for "Best Costume" tells you all you need to know about these awards. You can win an Oscar for the same thing that you were awarded a ribbon for at your Halloween party.
And when I'm voting on best costume at my Halloween party, I'm voting on what goes over the skin, not the skin itself.
So it's obvious that the criteria based on voters' vast knowledge of their craft and its current trends.
LA TIMES: "Hundreds of academy voters haven't worked on a movie in decades. 64% have no nomination or award." O and by the way "Erik Estrada." Bitch.
ME: O yeah, um… ok… well… how about this then…
Awards are based on choice, bias. We aren't giving awards based on cash flow, merchandising, or box office success. A quantifiable amount does not exist in voting.
The basis is: perceived quality.
This isn't sports, we don't have a Super Bowl, the "end all, be all" game decide once and for all whose best (and even then it is who is best on that day). We can't determine that definitively. Movies get hot and cold, we're all excited about an Oscar Favorite and then we sour on it. Our tastes change.
LA TIMES: "The organization oversees 126 million dollars in assets." These tastes do matter.
ME: Let's change the idea, let's say, everyone in America gets to vote on the awards. But then people will be just an unhappy with the result because their film didn't win anyway. No one will ever be happy when it comes to voting, except the winners.
Either way there are always losers. Some perceived injustice will have been committed.
Yes, I know losing or winning an academy award affects careers as well. Watch a trailer and see how they list the cast. Starring Academy Award winner Meryl Streep, Academy award winner Colin Firth, and Academy Award winner Denzel Washington. It's marketing, it matters.
My suggestion is at your Oscar pool fill out your ballet not on who you think will win, but whom you want to win. And don't watch the awards. Just walk away. Tweet a nice message to the actor or give it 100% on Rottentomatoes.
KILLSHOT on THE TIMES:
There's inequality in Hollywood, it's true, whether in the awards or the movies themselves. But the problem lies with us, not Hollywood.
We don't stand up and say, "I'm not seeing movies until there are more black leads or Latino leads or Asian leads"(in fact the article does not mention the absence of Asians in voting, it is only mention by Bernie Casey, an actor).
We don't ask for these castings so they aren't giving them to us. Remember Hollywood isn't making these movies for themselves; they are making them for you.
I love Hollywood and I will defend it to its death. And I love the Oscars, but we are never going to get this right. There is no best. Woody Allen says we should just nominate our favorites and they all win. I agree. Everybody's a winner, except the losers. But we want a winner, we want a definitive answer. And we aren't ever going to get it and we are always going to be unhappy.
LA TIMES: ERIK ESTRADA!
ME: I don't want to live in a world where this man didn't help select "what is best in life."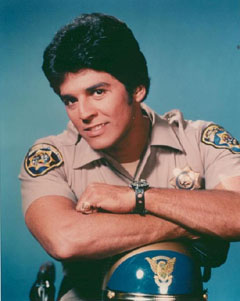 I win.
And
I win.